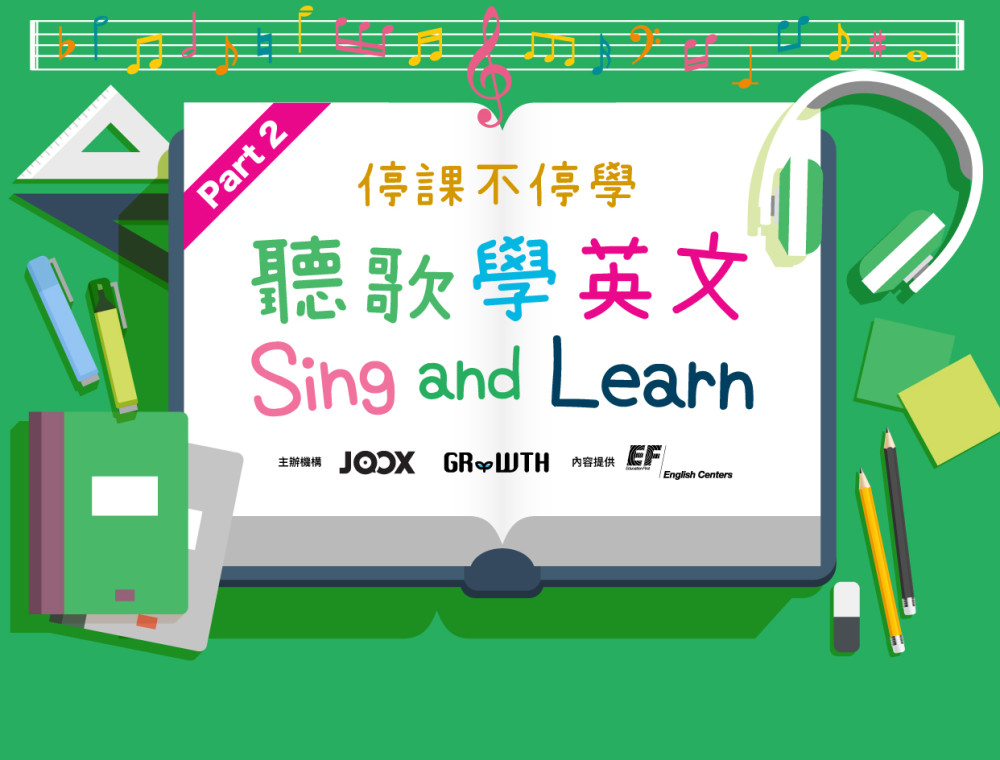 停課不停學系列:Sing and Learn 聽歌學英文 2
自第一回《停課不停學》系列開始後,不少宅在家中的大小朋友都表示開心, 安坐家中邊聽最愛動畫歌曲邊聽英文老師聲音導讀又發掘了不少學英文的樂趣!所以今周JOOX就特別聯同教育綜合平台GRWTH再接再厲推出《停課不停學》系列第二回,繼續同大家聽歌學英文,一齊停課不停學!
《停課不停學》系列第二回,再次找來EF English Centers導師作英語聲音導讀。同上星期一樣,聽唔切唔緊要,因為每首歌下面仲會有埋文字俾大家參考返,做到邊聽邊學!我哋繼續會每日更新讀本,記住每日開住JOOX上堂,一齊聽歌學英文,Let's Sing and Learn!
英語內容提供:EF English Centers
Narrator: Mr. Kevin Prak of EF English Centers
Sing and Learn 2 #Lesson 8
英語導讀: The opening song from 'Beauty and the Beast' does a good job of introducing the heroine, Belle, and the villain, Gaston. The song describes Belle as being beautiful but rather odd since she likes reading books, but Gaston is described as a normal, strong man. The people in the village praise Gaston but not Belle since she's not a typical girl. You know, its OK to be weird and not normal. Sometimes it doesn't fit society but who cares, be who you are! Don't let them stop you from living your live happily.
Sing and Learn 2 #Lesson 7
英語導讀: A song that wasn't in the original 1992 release of 'Aladdin' but added in the 2019 live-action remake. Jasmine sings this ballad with strong themes empowerment. In the movie, she's watching her kingdom be taken over by the villain, Jafar. She doesn't want to stay silent, or 'go speechless' as she sings, and that she will fight for her choice and everyone else's. If you feel that you need to fight for something that is right, do it! Don't stay silent, don't be speechless, and speak out!
Sing and Learn 2 #Lesson 6
英語導讀: Ahh another classic from Frozen. 'Do You Want to Build a Snowman' is sung by Anna as she asks her sister Elsa constantly to come out and play with her but she can't due to her ice powers. Anna misses her a lot, so she keeps trying for many years until they finally need comfort in one another. I think we all at some point have had sad points in our life and needed someone to talk. We talk to many people until one person finally understands you and gives you all the help you need. Don't wait if someone you know is looking for that help.
Sing and Learn 2 #Lesson 5
英語導讀: Digging up diamonds?! That's what the 7 dwarves from 'Snow White' did. Sounds great and all until you listen to their song and realize that they are digging up diamonds for work all day and night. They have no idea what they are being used for, which is crazy because diamonds are very expensive and valuable! How can you not know?! Its kind of a sad song really, as it can be a lesson for us. Know what you are working hard towards. Don't be clueless!
Sing and Learn 2 #Lesson 4
英語導讀: How do you know if someone loves you? On the other side, how do they know you love them? Well…you have to show some love and affection to your significant other. Sometimes, doing little things goes a very long way to show your love. This is pretty much Giselle's words from the movie 'Enchanted', as she told Robert why he hasn't married his girlfriend Nancy after 5 years. Once you find that someone and you know, just do it and get married!
Sing and Learn 2 #Lesson 3
英語導讀: Ah man, this upbeat song from the 'Lion King' still stays stuck in your head years after listening to it. This easy to sing-along tune comes from the Swahili language, which means no worries. 'Hakuna Matata' is rather carefree with its lyrics, which makes sense as it can help reduce stress in your life. Sometimes, things are out of control and we get stressed about it. There is no need to worry about it though. Just live the life now, deal with it, and move on. Things will get better.
Sing and Learn 2 #Lesson 2
英語導讀: This calm, yet sad song comes from the Mexican-inspired movie 'Coco'. If you take a closer look at the lyrics, it talks about dealing with the loss of a family member, as well as things to remember them by. This is something that we will all have to deal with one day. Its not an easy thing to get through. It can be difficult to stay positive during times when you lose someone you love. Things will change but life can still go on. Just remember them for the happy times.
Sing and Learn 2 #Lesson 1
英語導讀: For a song that seems to only be for girls, 'Part of your World' has many deeper meanings that are for everybody. In 'The Little Mermaid', Ariel sings this song as she rescues her human love, Eric from drowning. However, the lyrics go beyond love and talks a lot about empowerment, which pretty much means loving yourself and having a lot of self-confidence. People in our society try to tell us what to do and what to be, but we should all make our own decisions and feel what is right for ourselves. There is nothing wrong with being independent.
聽完本周《停課不停學》系列,小編相信大家都會覺得其實聽住歌學語言都幾輕鬆容易吧!密切留意JOOX X GRWTH如何繼續同大家Sing and Learn,一齊不停學習,一齊加油!
立即聽:《Sing and Learn 聽歌學英文 2》歌單
關於 GRWTH社區
以關心孩子成長需要為基石, 為忙碌的現代父母精挑搜羅有關親子教養、活動及生活知識等資訊,幫您省下搜尋時間,讓您更有充裕的心力及合適的資源來陪伴孩子,支持他們探索世界!
https://onelink.to/grwth
關於EF English Centers
EF English Centers (前名為EF Englishtown) 乃全球卓著英語教育權威,亦是全球最大網上英語學校。母公司EF Education First更是全球最大的私人英文語言教育機構,具55年環球教學經驗,於世界50個國家設有超過612多間學校及辦事處,為全球2,500家國際知名企業提供英語培訓,至今成功培育逾千萬名學員。
聽完外籍英語老師對首歌既賞析係咪都好想同老師用英文交流一下意見呢? 立即登記網上1對1英文私人會話課免費試堂,同老師練習下講英文啦!
https://bit.ly/2TWf7Ob