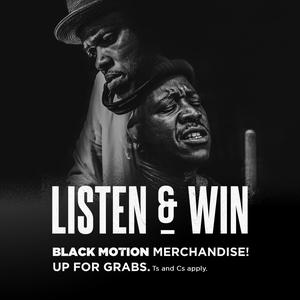 Black Motion: Listen, Comment & Win
Black Motion: Listen, Comment & Win
Stand a chance to win exclusive Black Motion merchandise, including lunch bags and t-shirts. 

How to enter: 

1. Look for the Black Motion 'Listen, Comment & Win' playlist in-app.
2. Identify five songs from their album, 'The Healers: The Last Chapter'.
3. Comment your answers on the playlist's comment section to be entered into the draw.
4. Enter as many times as you wish to increase your chances to WIN. Solly
- Black Motion feat Msaki: Marry me - Black Motion and Mvzzle Beat feat Naakmusiq: Amandla - Black Motion: Sibusiso - Black Motion feat Treaor: Bloodstream - Black Motion feat Celimpilo and Nokwazi: Beat of Africa

lanes
1.Marry me 2.Hosana 3.Blood stream 4.Mshubi 5.Best of Africa

Kieleh_27
1. Blood Stream ft. Tresor 2. Beat of Africa ft. Celimpilo, Nokwazi 3. Amandla ft. Mvzzle Beat, Naakmusiq 4. Hosana ft. Sun-el Musician, Nobuhle 5. Uleleni ft Ami Faku

Kieleh_27
1. Blood Stream ft. Tresor 2. Beat of Africa ft. Celimpilo, Nokwazi 3. Amandla ft. Mvzzle Beat, Naakmusiq 4. Hosana ft. Sun-el Musician, Nobuhle 5. Uleleni ft Ami Faku

Kieleh_27
1. Blood Stream ft. Tresor 2. Beat of Africa ft. Celimpilo, Nokwazi 3. Amandla ft. Mvzzle Beat, Naakmusiq 4. Hosana ft. Sun-el Musician, Nobuhle 5. Uleleni ft Ami Faku

Kieleh_27
1. Blood Stream ft. Tresor 2. Beat of Africa ft. Celimpilo, Nokwazi 3. Amandla ft. Mvzzle Beat, Naakmusiq 4. Hosana ft. Sun-el Musician, Nobuhle 5. Uleleni ft Ami Faku

Kieleh_27
1. Blood Stream ft. Tresor 2. Beat of Africa ft. Celimpilo, Nokwazi 3. Amandla ft. Mvzzle Beat, Naakmusiq 4. Hosana ft. Sun-el Musician, Nobuhle 5. Uleleni ft Ami Faku

Kieleh_27
1. Blood Stream ft. Tresor 2. Beat of Africa ft. Celimpilo, Nokwazi 3. Amandla ft. Mvzzle Beat, Naakmusiq 4. Hosana ft. Sun-el Musician, Nobuhle 5. Uleleni ft Ami Faku

Kieleh_27
1. Blood Stream ft. Tresor 2. Beat of Africa ft. Celimpilo, Nokwazi 3. Amandla ft. Mvzzle Beat, Naakmusiq 4. Hosana ft. Sun-el Musician, Nobuhle 5. Uleleni ft Ami Faku

Kieleh_27
1. Blood Stream ft. Tresor 2. Beat of Africa ft. Celimpilo, Nokwazi 3. Amandla ft. Mvzzle Beat, Naakmusiq 4. Hosana ft. Sun-el Musician, Nobuhle 5. Uleleni ft Ami Faku
Recently updated Playlists