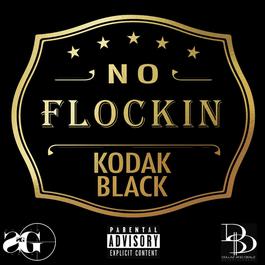 Song: No Flockin
Artist: Kodak Black
Young nigga, I got old cash
spazzing on they ass
I got Prada on my ho ass
got my last one mad
Pop a nigga like a damn tag
shopping on they ass
I just bought a new old Jag
it's so fast
Smoking flocka, you a jackass
all I smoke is gas
Don't you ask me
where the poles at
where your clothes at?
I ain't talking 'bout my niggas damn it
but y'all tripping, too
Is it you? Damn
my nigga what the hell got into you?
Project Baby
y'all was skipping in the hallway
I was skipping school
On my Ps and Qs
on them jiggas call me jiggaboo
Bleeding concrete
bet you niggas won't come
cross the street
Pardon me, I don't talk to you
so don't you talk to me
I ain't dissing on nobody beat
I'm vibing on the beat
Honestly, I'm just trying to be
I just gotta be
Trying to get over on anything
they telling lies to me
I spent five on my pinky ring
she love my diamond ring
Anyway, I'm married to the game
she said her vows to me
I ain't getting on my knees, bae
you bow down to me
You go down for me
you lay down and do the time for me
Sorry boo, yeah I lie to you
but don't you lie to me
It's little Kodak, the finesse kid
boy who hot as me?
Told the doctor I'm a healthy kid
I smoke broccoli
I will run around your whole board
like Monopoly
Ol' boy, you's a broke boy
flocka's got you beat
Chocolate, call me Reese's
can't catch me without the piece
C'est la vie, I'm ten toes down
you falling off your feet
I will trick your ass for a treat
call it Halloween
Yeah that money's what I play for
call it lottery
Goddamn, you's a clown to me
you's a clown to me
You can't smoke
no Black & Mild with me
get in the car with me
You a funny guy
don't you even joke around with me
How could it be?
Get from 'round a G
you grounded from me
I'm a freeband junkie
you a junkie
You getting skinny
I'm getting chunky, getting money
Want some food? Boy you hungry
I want them hunnids
hunnids
***เนื้อเพลงจากที่อื่น***