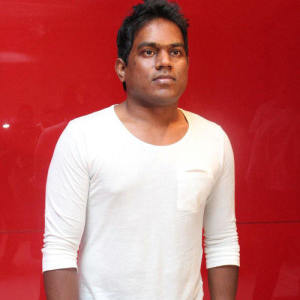 Yuvan Shankar Raja
5.6k Followers
Yuvan Shankar Raja (born 31 August 1979) is an Indian film score and soundtrack composer, singer and occasional lyricist from Chennai, Tamil Nadu. He has predominantly scored music for the Tamil and Telugu films. Son of noted film composer Ilaiyaraaja, he began his musical career in 1996, at age 16, as he composed the film score for Aravindhan. After initial struggle, he made his big break with the Thulluvadho Ilamai soundtrack (2001), and evolved as one of Tamil cinema's most sought-after composers by the mid-2000s.[1][2] Within a span of 15 years, Yuvan Shankar Raja worked on over 85 films. Considered a versatile composer,[3] he often strives for different and innovative music[2] and has explored and used elements of various genres in his compositions that range from folk and R&B to techno and heavy metal.[4][5] He is particularly known for his use of western music elements in his pieces and often credited with having introduced Hip hop to the Tamil film and music industry and having started the "era of remixes" in Tamil Nadu.[6][7][8] Being immensely popular among the younger generation,[6][9] he is frequently referred to as the "Rockstar",[10][11][12] and the "Youth Icon of Tamil Film Music".[8][13][14] In addition, Yuvan Shankar Raja is recognized for his background score in films (re-recording) that have fetched him accolades among critics.[15][16] He has won two Filmfare Awards; the Best Music Director Award in 2004 for his score in the drama 7G Rainbow Colony at age 25, remaining the youngest winner of the award, and the Special Jury Award in 2009 for his Telugu musical Oy!. Besides, he received six nominations for Filmfare Awards, one Tamil Nadu State Film Award in 2006
Read more
About Yuvan Shankar Raja :
Yuvan Shankar Raja (born 31 August 1979) is an Indian film score and soundtrack composer, singer and occasional lyricist from Chennai, Tamil Nadu. He has predominantly scored music for the Tamil and Telugu films. Son of noted film composer Ilaiyaraaja, he began his musical career in 1996, at age 16, as he composed the film score for Aravindhan. After initial struggle, he made his big break with the Thulluvadho Ilamai soundtrack (2001), and evolved as one of Tamil cinema's most sought-after composers by the mid-2000s.[1][2] Within a span of 15 years, Yuvan Shankar Raja worked on over 85 films. Considered a versatile composer,[3] he often strives for different and innovative music[2] and has explored and used elements of various genres in his compositions that range from folk and R&B to techno and heavy metal.[4][5] He is particularly known for his use of western music elements in his pieces and often credited with having introduced Hip hop to the Tamil film and music industry and having started the "era of remixes" in Tamil Nadu.[6][7][8] Being immensely popular among the younger generation,[6][9] he is frequently referred to as the "Rockstar",[10][11][12] and the "Youth Icon of Tamil Film Music".[8][13][14] In addition, Yuvan Shankar Raja is recognized for his background score in films (re-recording) that have fetched him accolades among critics.[15][16] He has won two Filmfare Awards; the Best Music Director Award in 2004 for his score in the drama 7G Rainbow Colony at age 25, remaining the youngest winner of the award, and the Special Jury Award in 2009 for his Telugu musical Oy!. Besides, he received six nominations for Filmfare Awards, one Tamil Nadu State Film Award in 2006
Relish the songs of Yuvan Shankar Raja on Joox anytime! Whenever we talk about an artist with amazing songs and albums, we cannot afford to miss one name viz Yuvan Shankar Raja. Yuvan Shankar Raja is one of the popular artists having 5,648 followers. If you too are looking for a destination to find Yuvan Shankar Raja songs then look no more, at Joox we present an incredible compilation of Yuvan Shankar Raja music videos and songs with lyrics that you would truly enjoy!