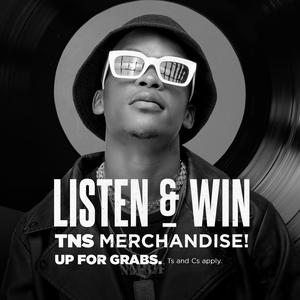 TNS: Listen, Comment & Win
TNS: Listen, Comment & Win
Stand a chance to win exclusive TNS - Phupholetu merchandise, including bucket hats, bags,
masks and t-shirts.
. 

How to enter: 

1. Look for the TNS 'Listen, Comment & Win' playlist in-app.
2. Identify five songs from his album, 'Phupholetu '.
3. Comment your answers on the playlist's comment section to be entered into the draw.
4. Enter as many times as you wish to increase your chances to WIN.

Liso Ngombane
1.Umhlaba wonke 2.ibhari 3.Nyathela 4.zodwa wabantu 5.kunzima madoda

Liso Ngombane
1.Umhlaba wonke 2.ibhari 3.Nyathela 4.zodwa wabantu 5.kunzima madoda

Liso Ngombane
1.Umhlaba wonke 2.ibhari 3.Nyathela 4.zodwa wabantu 5.kunzima madoda

Liso Ngombane
1.Umhlaba wonke 2.ibhari 3.Nyathela 4.zodwa wabantu 5.kunzima madoda

Liso Ngombane
1.Umhlaba wonke 2.ibhari 3.Nyathela 4.zodwa wabantu 5.kunzima madoda

Liso Ngombane
1.Umhlaba wonke 2.ibhari 3.Nyathela 4.zodwa wabantu 5.kunzima madoda

Liso Ngombane
1.Umhlaba wonke 2.ibhari 3.Nyathela 4.zodwa wabantu 5.kunzima madoda

Liso Ngombane
1.Umhlaba wonke 2.ibhari 3.Nyathela 4.zodwa wabantu 5.kunzima madoda

Liso Ngombane
1.Umhlaba wonke 2.ibhari 3.Nyathela 4.zodwa wabantu 5.kunzima madoda

Liso Ngombane
1.Umhlaba wonke 2.ibhari 3.Nyathela 4.zodwa wabantu 5.kunzima madoda
Recently updated Playlists