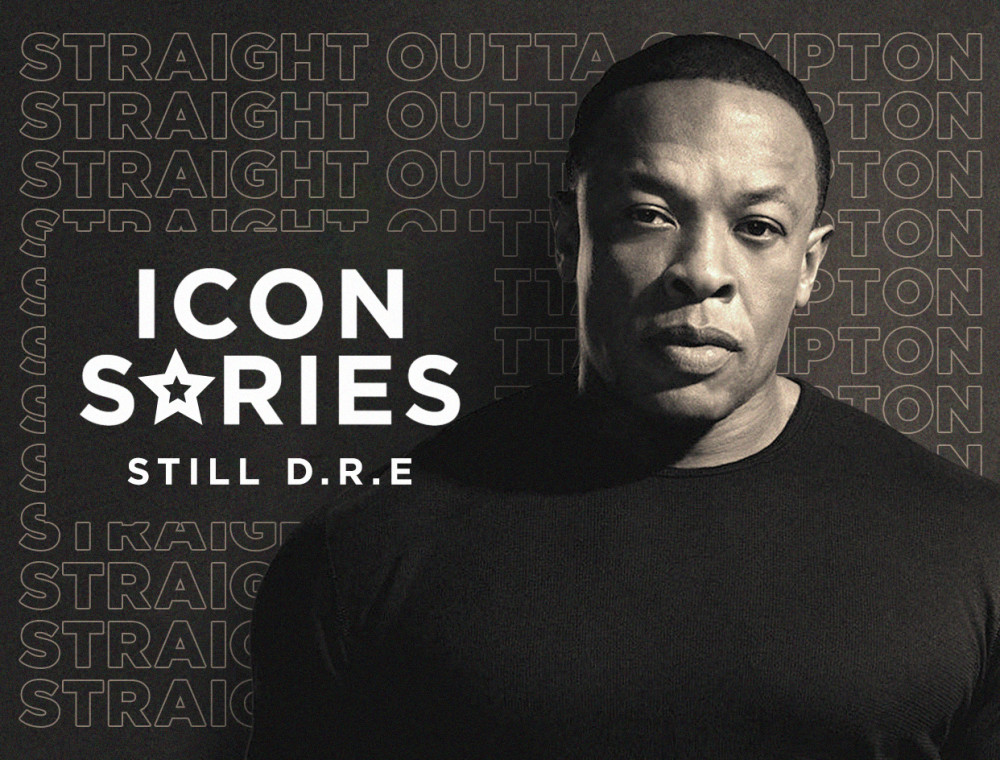 Still D.R.E.
Icon Series - Still D.R.E.
Andre Romelle Young, or better known as Dr. Dre, celebrates his 55th birthday this year on 18 February. Dr Dre is a multi-Grammy winning rap and hip hop pioneer, recognised for his rapping, songwriting, production and entrepreneurial skills, as well as helping to launch the careers of prominent artists such as Eminem, 50 Cent, Kendrick Lamar and Anderson .Paak.
WRECKIN' CRU
Electronic Funk and disco was one of the emerging sounds in the early to mid 80s and had a major influence on DJs blowing up on the West Coast where Andre grew up. Andre first made a name for himself as a DJ in his teens. He later joined the group World Class Wreckin' Cru who became stars of the electro-hop scene and helped set a firm foundation for his career.
RUTHLESS and N.W.A
Dr. Dre met Ice Cube in 1986 when the pair collaborated to write and record songs for Ruthless Records. Their first full album 'Straight outta Compton' (1988) was a major success despite no radio airplay and was characterised by its portrayal of the often violent lifestyle of inner-city youth. Ice Cube departed from the group in 1989 and saw Dr Dre shift from a more uptempo production style to a more laid back mid tempo style. This was called G-Funk, of which Dr Dre is seen as a pioneer and became the sound that would dominate West Coast gangsta rap.
DEATH ROW
Dre left Ruthless Records after a dispute with Eazy-E and In 1992 started Death Row Records along with Suge Knight, The D.O.C. and Dick Griffey. Dr. Dre released his first single 'Deep Cover' which was the title track to the movie of the same name. This was followed by the album 'The Chronic' (1992), introducing newcomers like Tha Dogg Pound (Daz Dillinger And Kurupt), Nate Dogg, Warren G, The Lady of Rage and others. In 1993 the album was certified triple platinum cementing its position as a cult classic. He also worked on Snoop Doggs debut album 'Doggystyle' (1993), which became the first album by an artist to enter the Billboard 200 at number one. In 1994 Dr. Dre received a Grammy Award for Best Solo Rap Performance for 'Let Me Ride', as well as the Grammy for Best R&B Vocal by a Duo or Group for 'No Diggety' in 1997.
AFTERMATH
Dre left Death Row Records and started Aftermath in 1996 as a subsidiary of Interscope records where Dr Dre was the producer/artist, as well as tasked with running a business. After two failed projects, the pressure was on to release a successful project. During this time Dre discovered Eminem and even though the pair clicked immediately there was resistance towards signing a controversial white rapper. The Slim Shady LP (1999) went quadruple platinum and Enimen became one of the most successful musical artists of the 21st century. Dre released his second studio album '2001' in 1999 which was immensely successful and confirmed a turning point for Aftermath. The label went on to sign many prominent artists such as 50 Cent, The Game, Busta Rhymes in its earlier days and more recently the likes of Kendrick Lamar and Anderson .Paak.
BEATS
In 2008 Dr. Dre released The Beats earphones in partnership with Jimmy lovine. The Beats earphones were designed to encompass Dre's personality from look, feel and sound, the idea was to feel you are in the studio with the artist. In 2014 Dre and Iovine sold Beats to Apple for $3.2 Billion effectively making Dre the first hip hop billionaire mogul.