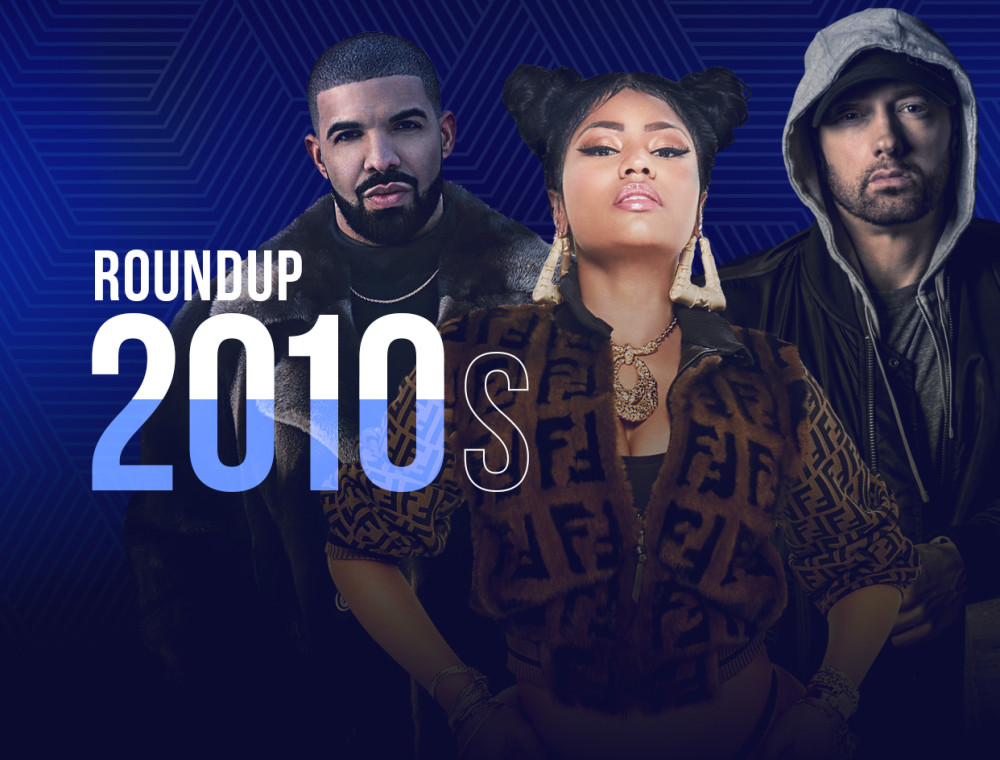 Albums Turning 10
The 10s has been one of the most electrifying and most disruptive decades in the music industry, especially in the genres of hip hop and R&B. Legacy artists like Kanye West and Jay Z continued to release landmark recordings, whilst new age legends like J. Cole and Kendrick Lamar developed innovative rapping styles that have brought wider recognition to hip hop.
Below we give you some classic (soon to be timeless) hip hop and R&B albums that are turning 10 in 2020. Let us know what you think in the comments section.
Kanye West - 'My Beautiful Dark Twisted Fantasy'
It goes without saying that this album is seen as Mr West's magnum opus. Spawned from his self-imposed exile in Hawaii in 2009 following the massive public backlash from his VMA moment, Ye brought his most diverse albums yet. With features from Rick Ross, Jay Z and Pusha T to name a few, Ye demonstrated that his musical genius had no limits. He also featured newcomer Nicki Minaj with her show-stopping verse (and arguably top 10 verses of all time), and demonstrated that with great risk may come even greater rewards. The album went on to sell double platinum. It also garnered massive critical acclaim along with many awards - one of them being rap album of the year at the 2012 Grammy Awards.
Nicki Minaj - 'Pink Friday'
What might have been viewed as one of the biggest risks of the decade, Nicki Minaj decided to show us that she can go head to head with any industry great and with 'Pink Friday' she dropped her debut album with Kanye West on the same day. The album includes hit songs like 'Your Love', 'Right Thru Me' and the album's standout track 'Roman's Revenge' featuring rap phenom Eminem. Whether it was her showcasing her multiple personalities by rapping as different personas or being as brazen and braggadocious as ever - Nicki led the female wave that we are currently seeing in hip hop. Now in 2020, it's safe to say we can answer her question of 'who made a million off a mixtape'.
Eminem - 'Recovery'
Coming off an album that for the first time was received poorly, Em decided to become introspective. Musically this album was Eminem's return to his darker moodier content. Songs like 'Not Afraid' showcased that he is well aware of his flaws and failings. The hit song 'Love The Way You Lie' which featured Rihanna stayed on the charts for 7 weeks, giving Eminem his fourth and Rihanna her sixth number one.
Lil Wayne - 'Rebirth And I Am Not A Human Being'
With the release of 'Rebirth' Lil Wayne had been in the game for 14 years and felt like he had done everything in the hip hop culture - so he decided to finally pursue trying his hand at the rock. The hit song 'Drop The World' features Eminem and marked their third collaboration. 'Rebirth' was Wayne's last album before he went into jail later that year. 2010 also saw Wayne release another album titled 'I Am Not A Human Being' which debuted at number 2. Wayne also became the first hip hop artist since Tupac to drop an album while in prison and reach the top position. The album lead single 'Right Above It' features the then emerging hip hop superstar Drake and was a top 10 hit.
Miguel - 'All I Want Is You'
They say that you have your whole life to make your first album and Miguel proved R&B is not dead with the release of 'All I Want Is You', despite it taking 3 years to release due to legal dispute. He worked with legendary producer Salaam Remi (who also supervised the album) to create the first single that bears the album title and featured J. Cole who had recently signed with Jay Z. Miguel garnered positive reviews and garnered the comparison to Prince. The album's second single 'Sure Thing' took neo-soul to another level within the R&B world.
Diddy - Dirty Money - 'Last Train To Paris'
Diddy famously said 'don't worry if I write rhymes, I write checks' and went on show that he not only produces and raps, but he can sing as well. For this album he created the group 'Dirty Money' which comprised of Kaleena Harper and Danity Kane. The album took almost two years to complete and the first single that was released late 2009 titled 'Angels' featured some unheard vocals from deceased rapper 'The Notorious B.I.G.'. As a precursor to the album's 14th of December release date, they dropped one of the biggest break out songs titled 'Coming Home' which featured the songstress Skylar Grey. The album featured an array of features from Drake, Trey Songz, Chris Brown and Usher to name but just a few. This album showed that the golden age for R&B was on its way.
B.o.B. - B.o.B Presents: 'The Adventures of Bobby Ray'
Having dropped 5 mixtapes prior to his debut album 'B.o.B Presents: The Adventures of Bobby Ray', B.o.B showed that the South has staying power in hip hop no matter what. The release of his first single 'Nothin' On You' featured the then unknown crooner Bruno Mars and went on to become an instant hit. The album shows that he had more to offer than rapping, with three more hit singles which went from a more pop leaning sound right to new age rock song featuring the lead vocalist for the punk rock band 'Weezer' Rivers Cuomo.
Drake - 'Thank Me Later'
The saying goes that 'cometh the man cometh the hour' and with this album the Drizzy Drake Rogers regime began. With his partner in crime 40, they proceeded to produce Drake's most personal album at that time while blending his rapping with his singing. In songs like 'Over' and 'Up All Night' Drake makes the statement that he is here to stay. But through all the braggadocious lyrics, Drake also shows his vulnerable side and effortlessly paints a picture about his feelings. The album went platinum in almost three weeks. From rapping to singing, The Boy shows us that we will party and 'he'll just be here makin' all the music that we party to'.
Rick Ross - 'Teflon Don'
The year of the biggest boss arrived in 2010 with Rick Ross' biggest album which debuted at number 2 on the chart. Driven by the street anthem 'B.M.F. - Blowing Money Fast' which was inspired by gangster Big Meech who is seen as a legend in the drug game. 'Aston Martin Music' is seen as Rick Ross' best single and sees him stepping away from his usual braggadocious rap style to cater to his female fan base and features Chrisette Michelle and Drake. Another highlight is Jay Z's verse in the song 'Free Mason' in which Hov addresses the illuminati and free mason claims and was delivered in complete freestyle which showcases Jay Z's magic as a rapper.
Usher - 'Raymond Vs Raymond'
The King of R&B Usher dropped his 6th album titled 'Raymond Vs Raymond' and spoke to the personal strife he was facing at the time. This album brought all of Usher's forays from the different genres into one comprehensive album: From the pop single 'OMG' to the R&B ballad 'There Goes My Baby' right through the sultry love jam 'Lil Freak' which features Nicki Minaj. The album also marked Usher's 3rd consecutive number one on the charts. The album went on to go sell 1.18 million copies in 2010 alone and is seen as one of his best works.