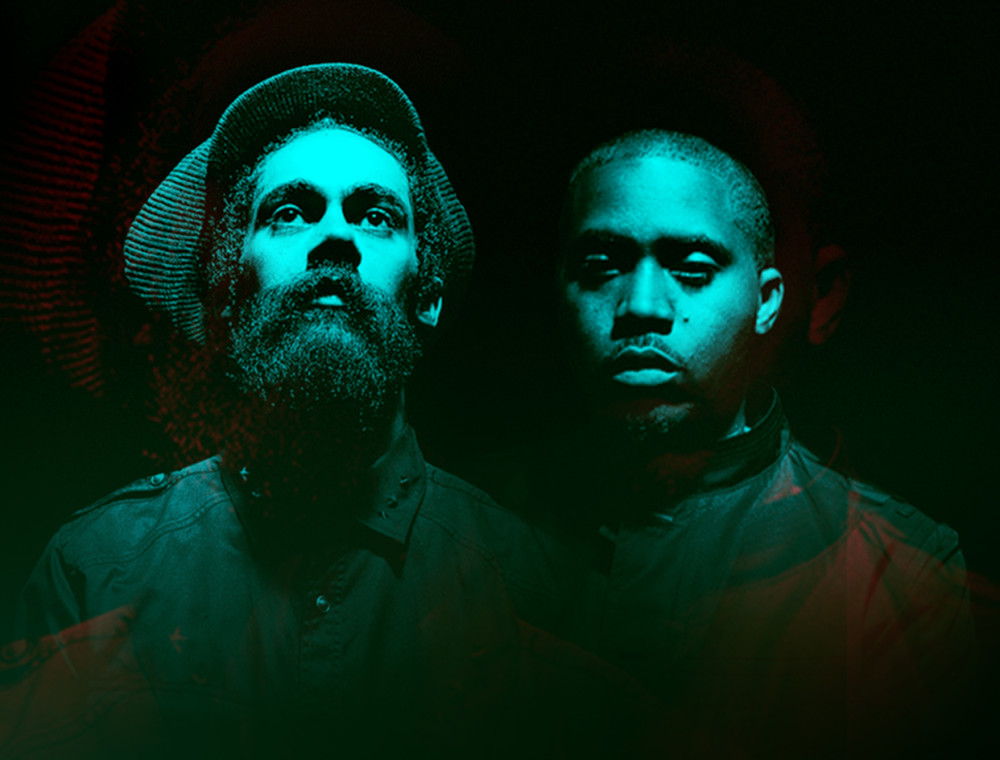 Hip-Hop Meets Dancehall and Reggae
Hip Hop has always been a melting pot of cultures, sounds and most importantly heritage. The Hip Hop culture was started in the late 70s in the Bronx, NYC. The founding fathers of the culture are Grandmaster Flash, Afrika Bambatta and DJ Kool Herc - being a native of Kingston,Jamaica - was responsible for bringing a huge dancehall and reggae influence into hip hop.
In this instalment of the 'Hip Hop Meets' series we focus on dancehall and reggae. Whether from the tenement yards or the projects, dancehall/reggae and hip hop have always created a plush union of sound.
So put your 'Lighters Up' and take a 'Tour' through this 'Sound Boy Killing' and experience the bam bam. 'Nah Mean'!
Nas & Damian Marley - 'Patience'
Linking up with Damian Marley, Nas demonstrates hip hop's ability to mesh and meld diverse influences to create the song 'Patience'. The song provides commentary on social plights, which has been part of hip hop, reggae and dancehall's messaging from the outset. This song samples 'Sabali' (which means 'patience' in the West African language of Bambara) by the famous Malian musical duo Amadou & Mariam. The song touches on topics like poverty in Africa, religious beliefs and the search for knowledge, as well as quest to a better understanding of ancestry - which directly links back to the theme of their album 'Distant Relatives'. The song was produced by Damian Marley and his brother Stephen Marley.
The Game - 'It's Okay (One Blood)'
Hip Hop meets dancehall in this 2006 release by The Game - 'It's Okay (One Blood)'. The West Coast rapper sampled Jamaican dancehall musician Junior Reid's song 'One Blood', originally written in 1988 around the upcoming election in Jamaica. He aimed to create a brotherhood and awareness around humanity as the two strongest political parties weren't seeing eye to eye at the time. The hook of the Junior Reid song features throughout the song and was produced by D-Rock & Reefa. In the music video visuals and imagery of the Los Angeles ''Blood'' Gang can be seen and also features Junior Reid showcasing his Jamaican and reggae roots .
Busta Rhymes feat Nicki Minaj - '#TwerkIt'
Produced by Pharrell Williams this track, which is primarily in a dancehall style, also fuses elements of reggae. In this song Busta Rhymes raps in patois - which is a form of English creole which merges Western and African influences. This is a song aims to make people dance and dutty wine (which is a traditional Jamaican dance style mostly performed by women). The song features Nicki Minaj who was also born in Trinidad And Tobago and she raps in that cadence.
DJ Khaled feat Buju Banton, Sizzla, Mavado & 070 Shake - 'Holy Mountain'
Dj Khaled is known for his big sound and big collaborations and doesn't miss a step with this dancehall and reggae infused track. The song samples one of the well known reggae songs 'One Spliff A Day' by child wonder Billy Boyo. Although Khaled and Mavado regularly collaborate, the track also features two reggae legends Sizzla and Buju Banton (who was released from prison late 2018). The newcomer 070 Shake - who is more known for her rapping and singing - holds her own by rapping in a more reggae style that will remind you that 'a spliff a day can really keep the evil and bad vibes away'!
Fugees - 'Fu-Gee-La' (Sly & Robbie Remix)
'Fu-Gee-La' is the highest selling single by the Fugees and comes from their 1995 album 'The Score'. Originally Saleem Reddi created the beat for Fat Joe in 1995, but when he played it to Wyclef Jean and Lauryn Hill they loved it and started putting words to the music. This remix by Sly and Robbie features a young Akon and John Forté and added more of a reggae feel to this classic hip hop track.